Tidbits!
Welcome to Tidbits! We try to post weekly but …… you know how news works. So enjoy !
Boom – We here is coming early next week. We have not names because it is a secret operation that has been ongoing. Get ready…
Kyle v. Chief Singletary – We smell something here. If a police officer is fired by the chief – but the city manager says that the punishment is overkill – well again we smell something wrong here. We smell politics. Thus we are really wondering how man FISA's caught what? Just saying. 
Bush Funeral – Bunches of people are zooming around getting ready to watch the procession in Houston or go through the gates till midnight. A must for many. 
Riceland Bails – There goes Riceland out of the beach. You knew with O care it would never fly. 
Bad Gas –  Seems Beaumont's air quality is of concern. Duh. 
Trump – A no go to the funeral of Barbara Bush. Not ignored – bad relations. Mrs. Trump will go. 
Drug Dealers In Nederland – Yes! Good job NPD. Busted cocaine and pot dealers. Great job. 
We hope you have a great weekend. We will post a special to the Review on Sunday. You will not want  to miss. 
BREAKING NEWS – Sealed Indictments
The Southeast Texas Political Review has learned today – through law enforcement sources that "up to three top level law enforcement officers in Jefferson County" have been indicted for various crimes. 
The indictments will be released by the Texas Attorney Generals office and the US Attorney's office we are told. 
According to our sources in Houston – the AG's office will make the formal announcement mid week next week. 
As for the charges, we do not know and that information will be given by the Attorney Generals office. However, we are are told it will not stop there. 
"There are others that have not been placed in front of the grand jury at this time. In fact, they probably will not even offer the opportunity," said our source.
When asked why? 
"There has been a FISA warrant in place for over two years. There are extensive recordings between many high ranking public officials and some in the community which meets the criteria. They believe that it shows a pattern of behavior of elected officials that have communications, make false charges against innocent people, setting members of the public up on false charges, and most of all government corruption on many levels. The first round of charges will be focused on law enforcement officials on a few levels."
According to another source, in Austin, Texas, which has indirect knowledge regarding what is coming told us : "Up here in Austin, we have had enough of the corruption in Jefferson County. We will begin to clean up the county one person at a time. I will not tell you what we have done, but consider this first round a warning to some in the community that try to control government – we will clean you out," said the source.
Our take? 
Okay – we really wanna believe this is happening. But we will assure you if this is true – and we have no indications that it is not – as we are talking to the good guys in the know – that this could be a great start to the county. We have NO IDEA who the sealed indictments are against – and it will be a surprise next week. We are sure that "let's make a deal" will happen and names will be given – and high level means high level. We are told that high level means the highest you can go – and if so – wow. 
Hold on for the ride. It will be interesting this next week. And ohhhhh…when those recordings come out!
We wonder……oh….do we wonder?
Whites Place
Well as we told you a month or so ago – former fire department assistant chief and now constable Earl White will be introduced next Tuesday as Beaumont's new fire chief. Leaving the constables position in Jefferson County until a new constable can be nominated and appointed by the Jefferson County Commissioners Court this next month.
Sources inside the commissioners court tell the Review that "it will most likely be someone from the republican party." Joking : "Has anyone seen Charlie Wiggins?" 
White, a well known and respected firefighter will be welcome to the city of Beaumont Fire and holds a no nonsense attitude towards management of the department. In his job over at the constables office, to which he ran for after retirement with the city of Beaumont because of his personal issues with then chief Ann Huff, he was able to garner the support of most every  GOOD law enforcement officer in the city. 
As well, the Review has learned today that on the other side of the fence at Beaumont PD – that Officer Dyson will be getting his job back and will start next Monday on patrol. This has left a huge underground upheaval inside the department – however – commanders say that he should not have lost it in the first place. 
Lots of cop moves folks – and if anyone has seen Charlie Wiggins….ask him to call commissioners court and ask for the  County Judge. Our guess is he would take the call. 
Shame
It was ten years ago today that a Fire was set at 1st Baptist Church in Kountze, Texas, which began a cover up of some big names, and big money, and cast a shadow over the Southeast Texas Regional Planning Commission and those that suck the tit of it. 
FLASHBACK : Kountze FD received a call of a structure fire at the Kountze First Baptist Church. Upon arrival of the the 1st engine, fire fighters report a fully involved church office and the smell of Gas. The ATF arrives and does a full investigation after more than five departments work to put out the fire. The entire building is a loss. Inside that building was records and computer records of a small group that ran MILLIONS OF DOLLARS through it funded by the STRP. 
Welcome back…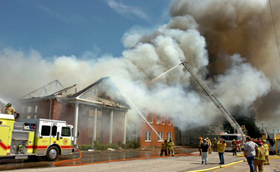 According to the ATF that presented the case to the US Attorney's office they named and charged what they saw as the kingpin who was connected to some really big names in Southeast Texas. He was charged, and made a plea of guilt, however at the moment he was to give his plea the US Attorney himself at the time dropped the charge (we are not kidding). This, after going to the church and speaking with they congregation, and telling them he would not stop until it was done, were the charges dropped.
Today, we here at the Review, want all of you to remember who we think the real criminals were in this episode. And those at the SETRP can hang their heads IN SHAME as well as those at the USAO at the time. 
SHAME.
And the proud men and women of the ATF – who were then in shock over the entire matter – they should hold their heads high. They did their jobs. 
As for the church – they are up and running and doing great. Preaching the word and doing wonderful things for the community. Hats off to the ATF and the congregation of the church. 
Our message to the ATF and the church – there are still good people out there. Still. They will pay one day for burning the church down to cover up for their crimes and those that stole money and engorged themselves.
Today a simple wreath sits on the door to remember faith in good – and we hope a face to the bad saying your bad does not come close to our good.
And that is the gospel. 
PA Town
Thinks just got worse – as the bond rating is said to be collapsing for the city of Port Arthur. We are told that notice will be given to the city that in fact the city will drop again in their rating.
Now what does this mean?
Well now – first the city is in deep debt and they are said to be waiting for funding from insurance companies for the storms. As well – FEMA. We are told that that funding may not come for a few years as their are still projects pending for storms over 10  years again.
So forget that.
Now, city leaders are touting that they are getting ready to receive millions that will pull them out of the hole. Well not gonna happen.
Leaving?
Our insider over at city hall is talking about not making debt payments – as October approaches  there maybe no money due to tax bases being lost and money that is due being call not collectable.
Meaning?
"I have sat in on those meetings I just don't think Port Arthur is going to make it. We need emergency funding now. We have contacted Cruz and he is working on it – but I am not optimistic," our sources tells us.
Our take?
We feel very bad for the citizens that have left. It is like Detroit and everyone is looking for a bail out. And here is a NEWSFLASH – no bail out is coming.
The question we have is this. Will this bad stuff spread to ……. mid county and on into Beaumont?
Answer is – we think it will. Why? Look at the school districts. Look at the graduation rates? It is not good.
We told you years ago this day was coming – the perfect storm. Port Arthur needs great strong leadership – from an outsider – but they won't. Which is good – let's call it done and let the state do their thing. This will be the second government taken over by the state in Jefferson County Texas.
Makes you think…huh?
Brown Still On….
Well this will make you wonder…..Don Brown, and his wife or partner, depending on what news media you are talking about, is in the process of going through the criminal courts on an injury to a child case. And if that were not bad enough – he is still pulling games by saying that he is not running any longer for Orange County Judge.
However, as he says he is not running, he has not filed any paper work as of today withdrawing, which has now landed in a lawsuit in Orange County.
Browns camps says "give us time." The Orange County Democratic party, whose leaders have also been sued, say they are working on it. But nobody is working on it. So we go to court.
Here is our take on the entire thing. Brown is now DONE IN POLITICS. Only Donald Brown does not know it. The Orange County Democratic party is done, but they don't know it. They are done because they are not truthful, never have been, never will be. They are left wing radicals that believe in left wing crazy beliefs. As the flight continues out of Jefferson County – Orange County  has flipped just like Hardin County. And what is left? People like Donald Brown.
And that was that.
# # #
The Southeast Texas Political Review is a production of Klein and Associates Political Relations. © 1995 – 2017 PRK Enterprises, Inc. Any rebroadcast or reproduction of this site is forbidden without permission of this Company. Such permission must be in writing and consist of the persons name – address – and the reason for the reproduction. Under title 17 of the US Code – Subjects that reproduce or reprint any portion of this site without permission of PRK Enterprises, Inc. may be liable under the statute. For comments – questions – or requests for reproduction of quotes or stories as written in this site, please E-Mail us at setreview@gt.twcbc.com.
You are visitor number :