Tidbits!
Let's go…..
Numbers – Way down over last year being almost 46%. WOW! 
Republican Primary – Not happening. Down almost 60%.
CD 24 – Story on that Sunday. WOW! Convicted felon running for Congress? WOW!
Port Problems – Looks like some Port issues are coming up? MORE DRUGS?
Hey Ho – Port Arthur Council got to GO! Ya….nobody is happy in COPA. John Beard is doing the lords work. 
Arm The Teachers and Admins – Yes we live in these days now. BUY HEY – when you leave your kid in front of a kill kill game all day? What do you expect? Lines blur.
Billy Graham – "Well, what took you so long to get here?" So says the Lord. 
Beaumont PD CID – Killing it! They are jamming. No stone left behind. 
Jefferson County SO – Seeming with their heads down and working hard and making it happen as well. Stephens has her guys doing it. 
Get Williams – God bless her. Never forgotten. Political views aside. 
Have a great weekend – we will post on Sunday!!!
Numbers For Day One
Okay kids….where are the voters? According to our numbers – the total voters are down by 673 voters? In both primaries? 
And for the GOP – is there anyone home? According to those numbers only 222 voters came out as the democrats had 639? 
Ya…we know….here is the numbers from Day One :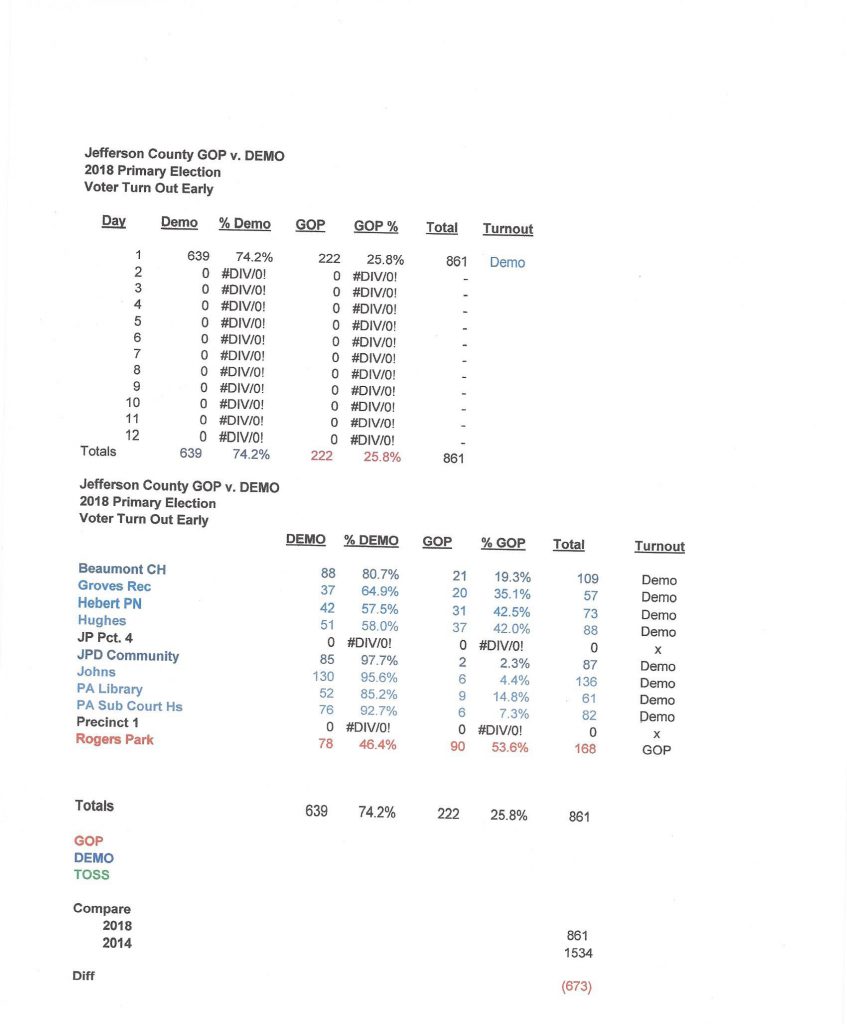 So let's talk about it?
There is a bigger loss of voters than maybe we expected.
There is major cross over as reflected in every single polling place – other than the Westend.
Nobody is voting – being – almost 673 voters less than mid term four years ago?
None of the races has ANYONE FIRED UP!
Many are staying home.
We spoke to a bunch of camps out there – and there is fear with the rain today and the bad turnout from Tuesday.
"I don't know. The numbers are so far down. I cannot fathom how it is going to effect many of our races. I just don't know," said our source close to one major campaign.
And we agree. It is a free for all.
So day one is done – we will update on Friday on Day Two and Three – as well we are watching ANOTHER corruption story in the 172nd race. Why nobody can just run a race we just don't know.
Hang in kids – we are moving towards the gate!
Light Turn Out…..
Well, the thrill is in the kill politically, and now we know that the thrill is gone as a really slow start to the early voting has begun. And that usually indicates that the incumbents will roll. 
However, this is a about as silly of a season with no real big impact races like we will see in the fall. So let's talk….
First, the black community so far is sitting out. Why? Well to tell you in one statement over 6 thousand people have left Jefferson County in low income locations. Meaning? Well the democrats are not there. 
Second, we are seeing some really low numbers in the GOP – meaning? Well there might be cross over happening for the 172nd. But it is just day one and we don's have any official number. 
Tomorrow we will show you the amount of people in the last race (s) in 2014 v. what we are seeing today. And that our friends will show the tale. 
Until tomorrow – go vote. 
Nederland ISD Get's Hit
Well, the sleepy little town of Nederland was rocked this weekend, when a mass mailing hit talking about Reed Richard and the Nederland ISD board encouraging people in the democratic party to cross the line and vote in the Republican Primary. 
Yes….according to this mailer that ended up in Nederland Primary Voters home mail boxes :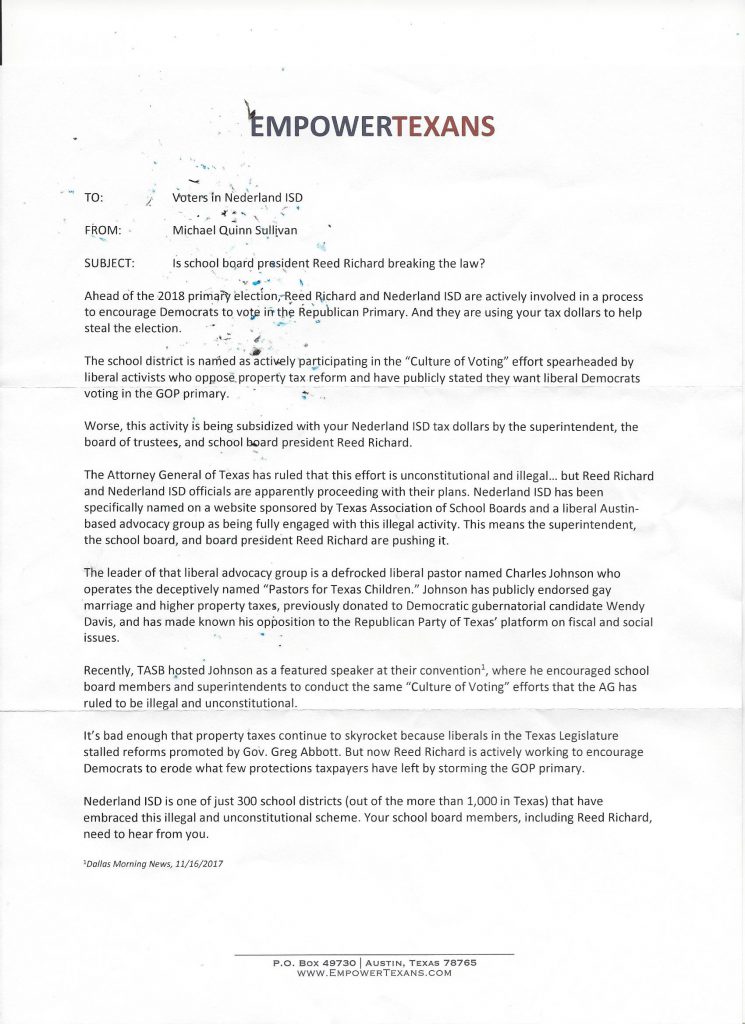 Now let's do some math here. We have a group calling around being used by the NISD board (so they say) to have democrats cross over to republican races? And it is being spearheaded by? Liberal Democrats that who oppose property tax reform? 
Now they accused Reed Richard and the NISD Officials of doing illegal doings with tax dollars?
So now we understand today that Nederland ISD will now be under the gun as the Attorney General is now looking into the spending of taxpayer dollars for….well….political use? 
Well not so fast Tonto !
The Review has learned that there may be a little play going on over here to slow down democrats and get them out of the Jefferson County race for judge in the 172nd? Is this all for real? Is this dirty politics happening? 
So what is next? Well we did some research and found these endorsements : HERE
Well this is a right wing republican group that is trying to do what they can do to muck up the primary. Is NISD getting involved in something they should not – absolutely.  So we say don't fall for it. Do what you do – vote where you vote – and don't underestimate the issues that you face with this group. 
NISD should know better.
Early voting starts tomorrow. 
Wright Dead
Well, with a hard heart, we all learned that city council member "Get Wright" passed away. And to her family we all in the political world send our prayers and thoughts during this hard time. 
Politics is politics friends. And we here at the Review are opposite in our political beliefs than Councilwomen Wright was. She was a Union Breed. And what does that mean – a left leaning democrat with the belief that Government could and would solve all of your problems. She believe in that fact that the free market was not good enough – and everything needed government funding. 
And that is okay – as Williams was one that understood governments power (s) and how government could change the way your life could go. From our civil liberties to how much you make for a living. 
Now the city of Beaumont is faced with an opening. There will be screams to appoint a person that has Wright's political opinion. And there will be screams for a race appointment. But the hard part will be this – finding a leader for the city.
Frankly, no matter how hard you look at Wright – she was a silent leader and she had power. Other council members feared her – because she was unpredictable. Her only problem was she was such a strong leader – she failed to breed other strong leaders. And that is a simple fact. And that is a loss for the city of Beaumont as there are no real leaders in the community – only those that follow what has come before them. 
So now with this loss – starts the hunt for new leadership for city council that might stop this wild spending spree on crazy stuff like ponds, civic centers, old folks fun houses, and more plazas and quality of life projects for the city – while our sewer systems are horrible, water systems need serious work, and roads are falling apart. Not to mention our fire or police and EMS systems. <what this last sentence means is that fire, police and EMS need more tax dollars which everyone ignores as Beaumont continues to fall apart!>
Again – our blessings and prayers to the Wright family. 
Grethal "Get" Wright – city council member for Beaumont – dead. Services are pending. 
# # #
The Southeast Texas Political Review is a production of Klein and Associates Political Relations. © 1995 – 2017 PRK Enterprises, Inc. Any rebroadcast or reproduction of this site is forbidden without permission of this Company. Such permission must be in writing and consist of the persons name – address – and the reason for the reproduction. Under title 17 of the US Code – Subjects that reproduce or reprint any portion of this site without permission of PRK Enterprises, Inc. may be liable under the statute. For comments – questions – or requests for reproduction of quotes or stories as written in this site, please E-Mail us at setreview@gt.twcbc.com.
You are visitor number :