Leaving
Well – not so quietly Jefferson County is losing an employee – that some say should have been lost a long time ago. However, when you are in with the big boys….
So Jefferson County auditors office has an employee named Rebecca Jean Reynolds. She has been around the gang at the courthouse since 1985 and she is a "player." Meaning she knows where the bodies lie around the courthouse. And according to our sources she not only knows where they bodies lie – she maybe has helped bury a few of them. So she must be handled with kid gloves.
This past year the Review ran a story on her. And we don't like to kick people when they are down – but she got into some trouble we were told. And she handled her trouble in Orange County – and frankly it wasn't good we thought then – and now. However, people make mistakes. 
The point of our story was that Jefferson County ignored her issues – when other employees who have been in the same situation have been suspended and fired? Those employees were outside of the good people that everyone always loved to …. well you know. Let's just leave it there. 
Now, on Monday, on the county agenda, this popped up :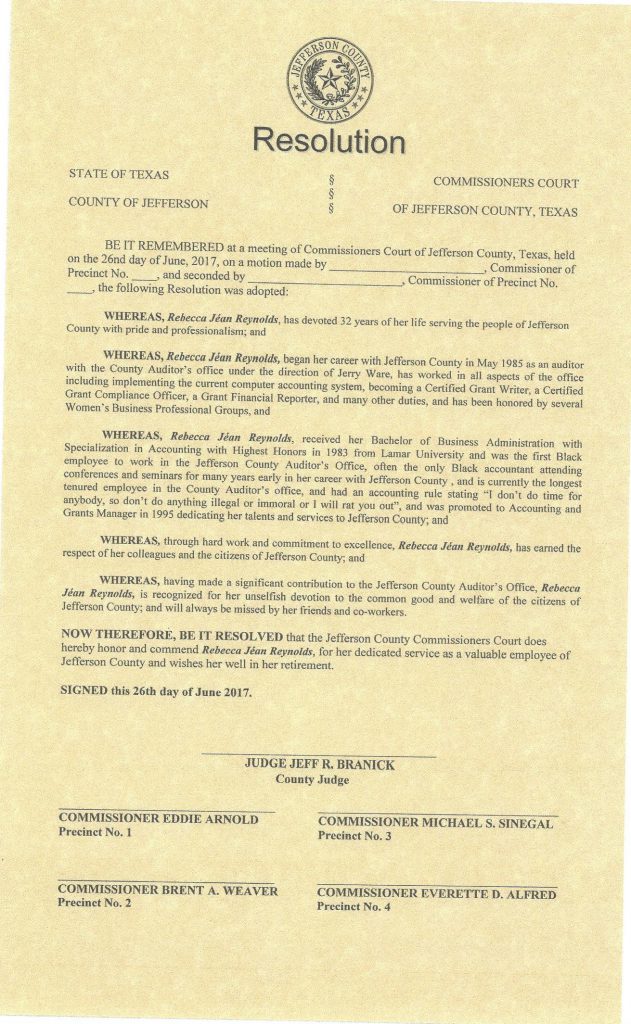 Now anyone who works anywhere for 35 years should get a thank you. Even if it is in the corrupt system of Jefferson County Texas. But you have to ask yourself this question – and we want you to think about it…..are the rules the same for everyone? And you know the answer – they are not. 
So in the end what do we have? We wish Ms. Reynolds well – and invite her to lunch with our editor to see if she wants us to go on a body hunt? 
That would be one hell of a lunch!
# # #
The Southeast Texas Political Review is a production of Klein and Associates Political Relations. © 1995 – 2017 PRK Enterprises, Inc. Any rebroadcast or reproduction of this site is forbidden without permission of this Company. Such permission must be in writing and consist of the persons name – address – and the reason for the reproduction. Under title 17 of the US Code – Subjects that reproduce or reprint any portion of this site without permission of PRK Enterprises, Inc. may be liable under the statute. For comments – questions – or requests for reproduction of quotes or stories as written in this site, please E-Mail us at setreview@gt.twcbc.com.
You are visitor number :