Tidbits!!!!
Okay, okay, okay…we hear you. Over 20 emails and six contacts with our boss and he said to bring back weekend TIDBITS! So here we go!
Chamber of Commerce – The Beaumont Chamber of Commerce and Beaumont Welcome Center released this beautiful video of the Chicken Fest in Beaumont this past week! Congrats to Churches Chicken on Calder in Beaumont for the Customer Service award from the Chamber – and they invite all of you that are visiting Beaumont to buy a snack pack for your travel out of Beaumont as fast as you can without getting killed. 
Woman gets beat up by chicken restaurant employees for being disrespectful
by u/GamerDabiTodoroki in PublicFreakout
Nederland Children – Oh SNAP! The wonderful children of Nederland threw a Party. A graduation party. But not in Jefferson County as they tried to hide who they were and what really happens in Nederland! Well, as always, you get caught. They had a huge party in Chambers County. And someone brought guns and shots were fired after a bunch of drunk kids between the ages of 16 to 18 mixed guns, drugs, and alcohol together! GO DOGS! This is from Channel 5 San Antonio. Gang bangers are in Nederland! Over 32 rounds were fired – through and through on this Nederland HS. Who owns mid-America Contractors the cops know? More Charges coming against four adults? Get lawyers as you are not messing with Jefferson County!
Turner, the Nederland Boy that got shot, was involved in the robbery and shooting in Seguin aggravated robbery! GO DOGS!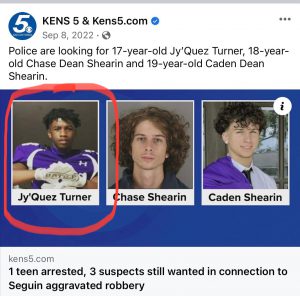 Sheriff Hawthorn Chambers County – Is not happy at all. Nederland Kids – stay out of Chambers County if you want to use drugs, alcohol, and guns. 
Dallon James – Paid all of his employees! WITH CASH! Er, uh, that is illegal as taxes with the government? Both state and federal? And they put that out on TV? Gezzz…
No Restructure – There will be no more Willie Burger and/or Pizza places. No way! Yes, Way! Another lie. 
Platts Out – Shilo Platts is out! Just had a baby – congrats! After also it was learned that he has legal problems back in Utah that were discovered by…? Oh ya. Now leave him alone.
El Nino – Run now. Run away! The big El Nino is coming so says the NWS. Sigh…..scary things. 
Public Campsite – So, okay, this is an idea. Round up all the homeless and send them to a camp up on the Northside of Beaumont. Hmmm, okay. Leaving downtown and under overpasses empty of homeless. God loves caring people.
Numbnuts – Women's and Children's Center is building a new building for their clients. You know, the ones that get beaten and go into hiding with their babies! And that is GREAT! We love it. But why are you advertising it with a huge sign out there where the site is (notice we are not giving the location)? Who in the hell did that?
SET Press Club Awards – We are proud to say that we won ZERO awards at the Press Club event! None. Zero, Nada, poof! And we are just fine with that! Really, we are. We have zero talent when it comes to those in the professional media. Although we still break big-time stories before the mainstream even / or have any idea what is going on. Press Release journalism is on and they give each other awards! We just like giving money for scholarships. 
Calm Down – Chicka whatever chicken joint in Mid County is closed. Calm down – remodel. Sigh…now we get calls on chicken stores?
Okay, are you all happy!?!? Have a great weekend! Sunday we shall post…
Phelan Catching Candidates – A Year Early?
Illusions of grandeur as we say around here at the Review give some of the radicals a reason to cheer, and then go BOOOOOOO. And man, are there some bad people out here in the world? Here are two that have filed for their candidacy to try and beat Dade Phelan, the speaker of the house in Texas. 
Now why are some mad? Who knows? They say that Phelan is a Democrat in Republican garb. Okay, so he was able to build a few agreements in the House? Isn't that why we send them up there? They are mad at what he did not do, that will be approached in a special session, so they get Phelan like a roll of Ham on a Ham Sandwich and put up two people to run against him. And here you go…Republicans eating their own. It is a hard problem for the GOP to overcome. And many in Southeast Texas cannot step back and breathe. 
So now we have two that have announced (yes we know) already. Here they are!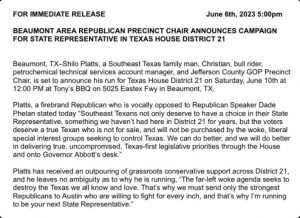 A real firebrand? Okay – so we did a little research and rut ro…he is not what he seems to be. Here is part of an article on him all the way from Utah…
According to the findings of fact outlined in the ruling upholding the denial of Platts' insurance license, the Utah State Insurance Department denied Platts' application on the basis that Platts committed "an act that is a ground for a denial of a license" failed "to meet the character requirements for licensing," failed to pay a final judgment rendered against him in Utah, and found that Platts was "unqualified for a license."
As a basis for the ruling, the administrative law judge hearing the matter cited a civil lawsuit where a judgment for $1,769.27 had been entered against Platts, and that had not been released at the time of the administrative hearing involving Platts' insurance license application.
The administrative law judge also noted that Platts "has had at least one (1) criminal misdemeanor class "B" (Theft) conviction entered against him in June 2011, which was affirmed on appeal as of January 2012 as a result of the withdrawal of a pending appeal."
Say do what? Now we have a guy that is running against the Speaker of the House that is a criminal and doesn't pay his bills? WHAT THE HELL? Who is behind this guy? 
Moving on to the next victim the former chairman of the Orange County Republican Party. Here released this statement: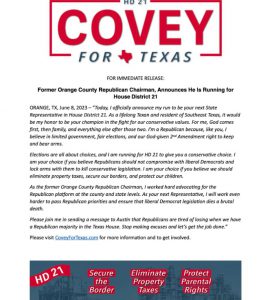 LaLa La – he wants to secure the border, get rid of property taxes, and protect parental rights. Isn't that … well never mind. He lost a race for Texas GOP Chair, however, some say he is popular in Orange County. And we say okay…but he is running against the speaker of the house. 
So, we have a criminal running against the speaker and a wannabee on the state level. What does any of this mean? Dade Phelan will be back in the house if the election were held today. Why? If you are going to run Phelan, you better have a better message than the usual GOP. And why would a so-called conservative want to run the Republican Speaker of the House and lose control from the GOP to who knows what – and lose all of that clout?
Here is the deal AGAIN! Republicans are ideologues. Just like the Democrats, they have the far left, then the middle (who wins elections), and the far right. Neither of these guys will be able to raise the money to beat Phelan – so they will be forced into a ground game until TV time. And then you will see the power of the speakership. And frankly, we are very disappointed in Covey – if he loses like we think he will big time – he will be done. All he had to wait to do is simply let Phelan finish his gig and step right in and take over. As for the criminal – folks this guy is a joke according to everyone we have visited with in Utah. 
Ye HA! Let's go. 
The Story Behind The Story
There is always a story behind the story. We have always said in the southeast Texas area it is not what you know but who you know. And the story of the Riverfront in Port Neches is another reason the people do not trust their government. 
Hidden from the media, and even us (which is very unusual) our government representatives kept putting out a glorious statement on the Port Neches Riverfront. Nobody knew of the financial crisis a group that had promised to lease or buy on the river. All was good – but it was not – up to around 30 days ago. 
The owner of a group called the Neches Restaurant Group, LLC, named Dallon James, kept giving the promise that he was leading the way to great things on the River. In fact, according to news media reports who reads simply press releases, and does ZERO investigative work into the players, started in 2021 saying big things were coming. Then, in 2022 again Neches Restaurant Group was bringing wonderful things to the Riverfront and all was good. Then, 2023 rolled around and things were starting to show the company that owned Willie Burger, Crown Pizza, and another affiliated Mexican Food Group called Taco Rey and their ownership was going to build their wonderful River Front operations in Port Neches. And out of nowhere, all of the Restaurants closed, except Taco Rey as their ownership smelled blood in the water and got out of their deal both on the Riverfront and any association with Dallon James. 
Now the first question we had was this – who the hell is Dallon James? Well, he lives in Port Neches, Texas, in a house worth around $600,000. He works at a local industrial electric service company – at a payroll of around $200,000 a year "if not more" according to company employees who contacted us. So, he is doing pretty good? He even has a pool and golf carts that he toots around town. And then the real shocker – this guy flew under the radar and is an elected official with the Port Neches ISD. In all, seemingly an okay guy.
However, according to filings with the Federal Court, this guy is in serious financial trouble in Southeast Texas that includes the IRS. 
On June 5, 2023, at around 2 p.m., Dallon James took his company into Chapter 7 Bankruptcy. And that was that according to the Federal Court. 
Well, KFDM's Angel San Juan took note and came out with a story last night, and for those of you that did not see it – it is very interesting: HERE
So after hearing how he was going to make everything GOOD for the employees and debtors we kind of got really interested in this guy and what he was about. And it is simply not good. He is in so much financial struggle that our guess was right – he is a big talker POLITICO and borders on a scam artist. 
The question is – how did he dupe all of these elected officials – and our guess again was right – he is an insider and could not have funded buying a new car. Let's look.
First, he filed Chapter 7 (which should be a really big red flag). That is – goodbye all debt and we are selling out. This after he got on TV and said it is not over? He may build? Either he is nuts or simply doesn't know what he is talking about. Which should PISS OFF everyone at the Port Neches City Council. 
Here is what the government says about Chapter 7:
"A Chapter 7 bankruptcy case does not involve the filing of a plan of repayment as in Chapter 13. Instead, the bankruptcy trustee gathers and sells the debtor's nonexempt assets and uses the proceeds of such assets to pay holders of claims (creditors) in accordance with the provisions of the Bankruptcy Code. Part of the debtor's property may be subject to liens and mortgages that pledge the property to other creditors. In addition, the Bankruptcy Code will allow the debtor to keep certain "exempt" property; but a trustee will liquidate the debtor's remaining assets. Accordingly, potential debtors should realize that the filing of a petition under Chapter 7 may result in the loss of property."
Second, he listed his liabilities at $500,000! You cannot come out of that. But what he DID NOT LIST was the current lawsuits pending on him in New York City. Here look.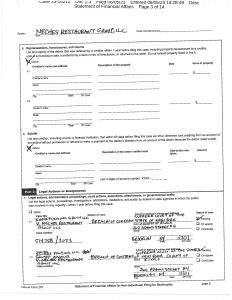 Third, we then got really concerned after seeing the debt really owed by the company: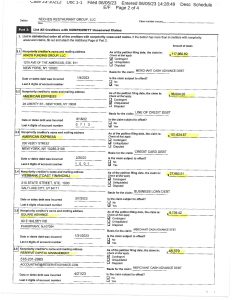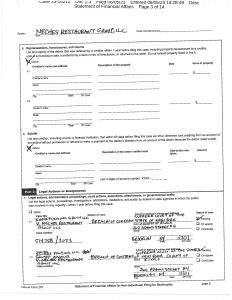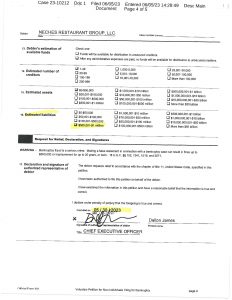 What does this mean? More debts than there are assets. And also, note, there is ZERO reference to the $20,000 in back payroll taxes and ZERO reference to even the money owed to employees to the tune of around $40,000. What a mess.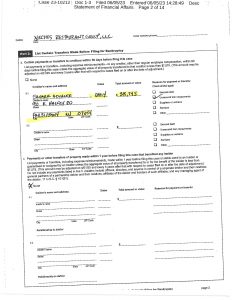 And now we have partial payments to high-interest lenders… American Express? And others to the tune of around $340,711.57?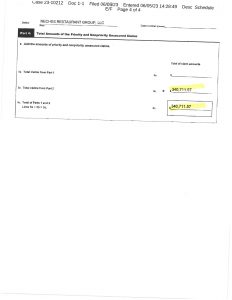 Now you have to ask what in the hell has been going on? Really, what happened? Is this guy a bad businessman? Or was there more going on in a scam to pay Peter from Paul?
And now to the big question – how did he keep all of this from not only lenders but the City Council of Port Neches? As we say, there is always a story behind the story.
Now, what do we think should happen?
(1) This guy should resign from the Port Neches ISD. NOW. 
(2) He should sell his $500,000 home and assets and pay his taxes and employees. NOW.
(3) He should make a public apology – and we mean PUBLIC APOLOGY to the citizens of not only Port Neches but Southeast Texas where MILLIONS of tax dollars have gone under false pretenses. And we are not sure – but we think that Port Neches City has a lawsuit against this guy. The money spent over the last five years is huge. 
The bottom line is this – we had ANOTHER scam artist hit our area. From these guys that are saying they are going to build in downtown Beaumont and Pleasure Island to this crazy-ass Beaumont downtown knock-down building thing – when does it stop? Really, when? A simple background on this guy would have shown everyone that he was damn broke and using others' money. And again, thank God the nice people over at TACO REY saw the tea leaves and ran away from the deals they had set up. He was trying to ride their backs. And that is sad. 
In the end – THIS IS JEFFERSON COUNTY TEXAS where the rip-offs are everywhere. 
Another Government Riverfront Dead
And once again, another government project making life easier is DEAD. And this time it is Port Neches, Texas, where the Riverfront idea was all good. Right?
Well, there were going to be eating places in a mall-like atmosphere. The two mainstays were going to be Willie Burger and Crown Pizza, two restaurants owned by a local guy who was going to make it happen for the mid-county city. How do we know?
Well, here is what the media reported to you the citizens in Southeast, Texas in 2021:
"The new food court will be built near the new Iguana Joe's, which was announced last year. 
"It's taking a while, but it's really been something that Port Neches has been really proud of," Port Neches Mayor Glenn Johnson said. 
The Point will be home to Crown Pizza, Willy Burger, and High Society Tasting Bistro along with several other restaurants."
And this from the Beaumont Enterprise:
"Dubbed Neches Point Market District, the project is the vision of Port Neches School Board member and restaurateur Dallon James and his investors.
James owns Beaumont's Willy Burger and Crown Pizza, but he said an investment of the size and scale of Neches Point is more about creating something that can help other local entrepreneurs and the city prosper rather than growing his own businesses' footprint.
"We've always been talking to people and different groups about moving here or investing in Port Neches because we believe in it and the support from people here," James said. "This project is about putting our money where our mouth is."
Well, that was then and this is now:
As first reported by The Beaumont Enterprise, financial struggles caused the recent closure of Willy Burger and Crown Pizza in Beaumont and Katy.
Owner Dallon James told The Enterprise, a media partner of 12News, on Monday evening that the closures are not permanent and were brought on by "poor performance" at the newly-opened Crown location in Katy.
"Unfortunately, as much as we like to think of these restaurants as an extension of our family, at the end of the day it is a business," he told The Enterprise. "Businesses cannot survive without adequate profits to sustain operations and there have been many circumstances that were unforeseen and out of all our control that happened all at once."
However, James said the company is working to "make things right" for employees who have been impacted.
"There have many productive discussions to get the restaurants back up and running and back to full strength again and we believe this will be done with a strong and trustworthy leader at the helm who the employees and community can have faith in," James told The Enterprise. "Whatever the outcome, and even without our involvement in the future operations of these restaurants, we will continue to do what we can with whatever resources we have to try and be instruments for good."
Let's take a moment for some hard-hitting video depicting what is going on:
What are we trying to say? Riverfront in Port Neches is facing the same thing Beaumont will face if they continue this silly Riverfront project. Closure in a year and nothing but empty buildings and cement. Just like downtown Beaumont!
And today – James files for Bankruptcy…ugh!
Ohhhhhh….noooo…Mr. Bill! There goes another Riverfront Project! OH NO…our tax dollars. 
Folks, these businesses will never reopen as they did not make money because they try to close before they open and it is all about location! Sitting on the River is only one location – not 19. Fertitta can do it because he has HUGE CASH and can market it. And he has great service and great food. That is the draw…not a River with a bunch of dead bodies floating down it. 
But again, who are we? Just a bad spelling website that is just about 95% correct every day of the week!
Dysfunctional Nederland
Okay, we have tried to tell all of you how dysfunctional and now panicky the sleepy little town of Nederland is. And now it has reverted itself into a manic position. The city is falling apart, and rather than worry about Whore Houses, people getting shot, taxes through the roof, bad roads, and water issues – they are worried about TREES.
No, we are simply not kidding. Parents are going nuts about TREES. And many in the little town have gone nuts. 
So, the bond issue calls for new parking lots and to do such you have to knock down trees. You know, remember, everyone has read the bond issue and the construction operational guide, and voted to do the bond issue as written. 
Well, it seems that there is a row of trees near the Jr. Highschool near Wilson Middle School that were planted after DEAD PEOPLE. And nobody read that they would be knocked down – until the big machine showed up today and … well … knocked them the hell down! LOOK: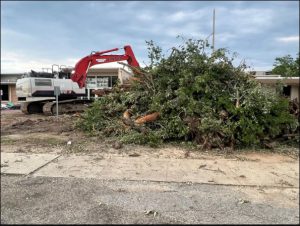 And so there was a huge FREAK OUT over dead people's trees being torn down to put cement over it. Giggle – no really – they are not freaking out about the WHORE HOUSE down the street, or the murder/suicide about a mile away, or maybe the four car chases that went right by the school. Oh no…we are worried about TREES! 
So they call KFDM – and BOOM comes to the story! And that story quotes social media and is about as funny as it comes. 
Here is what the ISD says about the TREES!

Again, you cannot make this stuff up! We tried to take your millions in money, and we tried to save the trees named after your dead relatives? NO REALLY!
So, dead people trees are lost, taxes are double what was promised, Kay DuCuir still has the school district and the city by the balls, and who is doing what? Nobody knows. Did we mention the high school – you know the new portion whereas the district has been warned they might want to keep the old campus up for a little while? The other one being built has…let's just say…it might be time for a HUGE flashback! But we will give it a little rain and a few days. 
Folks, you just cannot make this dysfunction up! GO DOGS!
A Very Violent Week End In Jeff Co
A while back we asked the question how bad could it get from the violence that has taken hold in Jefferson County, Texas? And we got our answer over the weekend.
Over the past two years, we have named Port Arthur, Texas, "Little Chi-Town" after the city of Chicago. Statistically, Port Arthur has more violence than Chicago being shootings, stabbings, and major crime and now that has spread to Jefferson County as a whole. 
Before we get started, let us remind you from the start that nobody can blame the police. These men and women are working so hard to just keep up, especially in Port Arthur, evil has overcome good. So you that sit in leadership positions need to understand how bad it now is. 
Over the weekend, in Jefferson County, there was a reported murder-suicide, a police chase that ended with a shootout with police, another shooting that was reported between two rival gangs, another car chase, and shots fired calls all over two cities that ended up being two rival gangs having a shootout while chasing each other. Did we mention robberies?
First, it was Port Arthur, then it spread to Beaumont, then to the smaller cities. Now it is county-wide. 
So what is the answer? Well, it starts with the county government, then with the newly elected mayor West. It is time to bring in the Federal Government and do what Chief Singeltary is doing. A major crime task force that spreads out the criminal teams of police officers that are fast action when a call goes out, is proactive on the streets with one goal – GUNS AND DRUGS, and clean up Jefferson County. And we mean at least 20 units across the county. Just like they did years ago when DUI was out of control. Enough is enough and they must have the support of every elected official. They can put Port Arthur in a holding pattern until this dope Mayor is booted out of office on term limits (God Help us on who is next). This can be done. We have an overflow of money, and governments must remember that the first priority is the safety of its citizens, not stupid feel-good projects. 
So, hello leaders? Judge Branick is a true leader – he could make that call and have all of the mayors and their police chief (s) meet in a criminal takeover meeting – call the feds in and make a plan. 
The question? Do they have the guts to do it – or the want to make it happen? Food for thought this Sunday. Or will it take an officer losing his life? Jefferson County needs help. Make it happen. And after that – how about the criminal courts? We the voters have control over that. 
###
Texas Political Review is a production of Klein and Associates Political Relations. 1995 – 2023 PRK Enterprises, Inc. Any rebroadcast or reproduction of this site is forbidden without the permission of this Company. Such permission must be in writing and consist of the person's name – address – and the reason for the reproduction. Under Title 17 of the US Code – Subjects that reproduce or reprint any portion of this site without permission of PRK Enterprises, Inc. may be liable under the statute. For comments – questions – or requests for the reproduction of quotes or stories as written on this site, please E-Mail us at setreview@gt.twcbc.com.
You are visitor number :